Fearless Femininity with Yasmina Ramzy (July 8, 2012)
African | Bachata | Ballet | Ballroom | Belly Dance | Blues | Bollywood | Brazilian | Break Dance | Burlesque | Capoeira | Casino Rueda | Circus | Contemporary | Cuban | Dancehall | Dancesport | Disco | Exotic | Flamenco | Folk | Forro | Hip Hop | Hustle | Improv | Jazz | Kathak | Kids | Kizomba | Irish | Line Dance | Lindy | Lyrical | Modern Jive | Oriental | Pilates | Reggaeton | Salsa | Samba | Scottish | Soca | Swing | Tango | Tap | Waltz | Yoga | Zumba | Zouk | Free | Other
Fearless Femininity with Yasmina Ramzy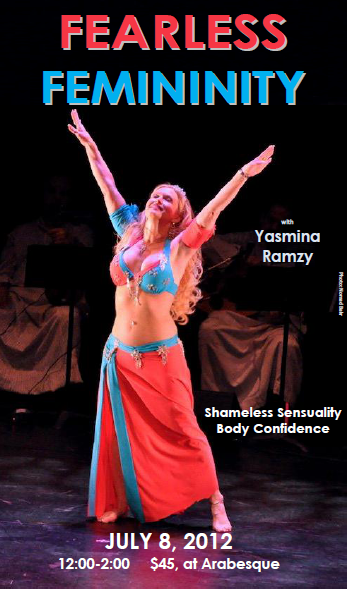 FEARLESS FEMININITY with Yasmina Ramzy
Shameless sensuality and confidence in your body!
Discover, explore and enhance these essential ingredients for all Bellydancers.
Remember the first shimmie or hip circle you performed that gave you a great sense of joy and release of body shame? But now, it is 2 years later and you still have issues with posture and some techniques. This workshop is concerned with the mind and body connection and with drilling out those obstacles that keep you from attaining you dance aspirations.
July 8, 2012
12:00-2:00pm
$45, at Arabesque
Drop by the studio or call us to register: 416.920.5593
ARABESQUE
1 Gloucester Street, Suite #107
Toronto, ON M4Y 1L8
416-920-5593
info@arabesquedance.ca

When
July 8, 2012

12:00-2:00pm

Where
Arabesque
map
Cost
$45

More Information
Arabesque

416-920-5593

---
This announcement by Arabesque
More announcements by Arabesque here.